This website may contain affiliate links and advertising so that we can provide recipes to you. Read my privacy policy.
French Toast is thick sliced bread dipped in a creamy egg, milk, and cinnamon mixture and then cooked on a griddle to perfection. This delightful breakfast is filling, easy, and going to be a hit with everyone in your family!
Breakfast is better with French toast! If you love French toast as much I do, then you have to try all of my variations of it! Try this Caramel Apple French Toast Casserole, this family favorite Creme Brûlée French Toast or this delicious Almond Crusted French Toast with Roasted Strawberry Syrup.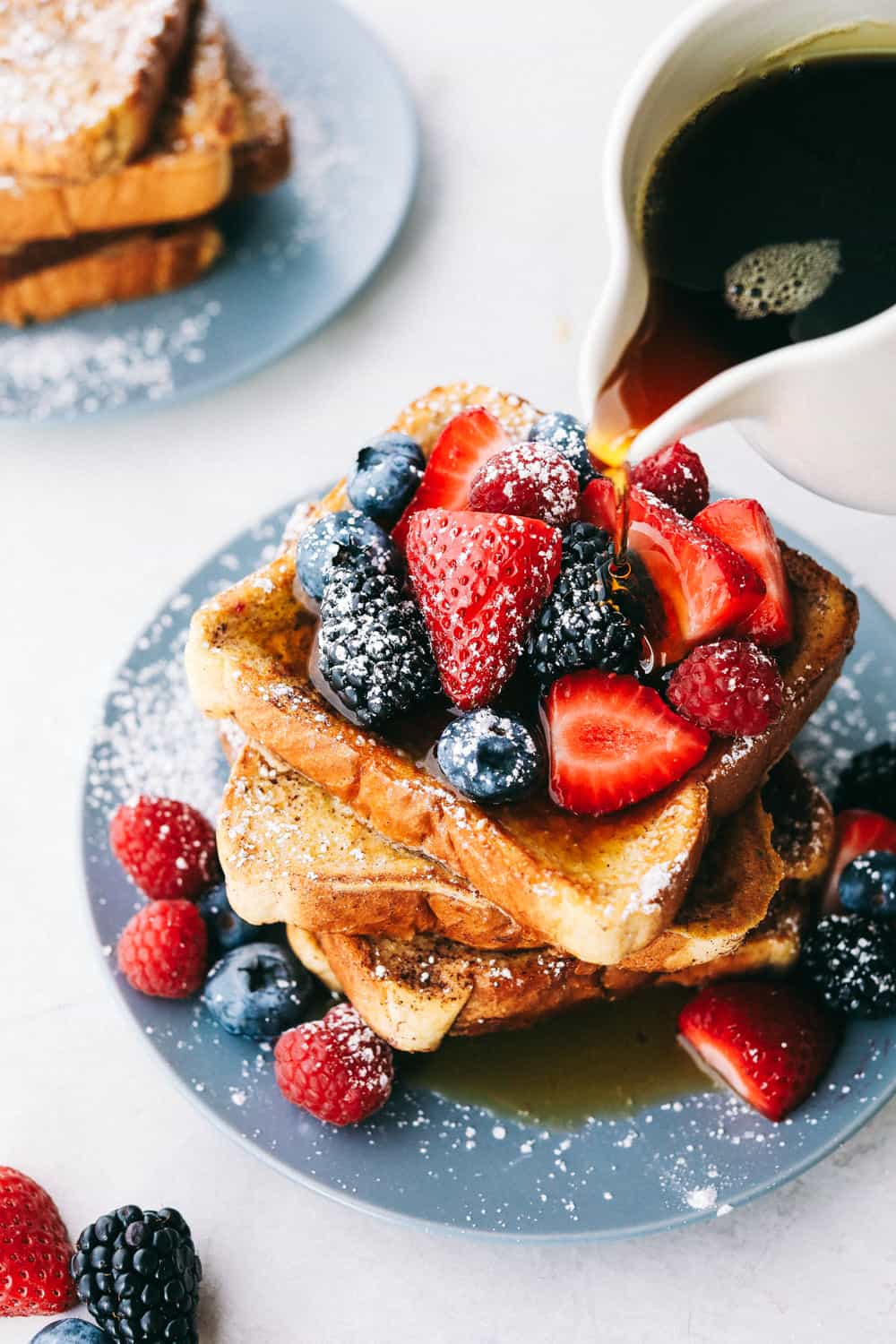 Secret Ingredient French Toast Recipe
You can never go wrong with the best French toast recipe! To make this the best of the best, you have to have the secret ingredient that is often left out. When my husband was living in France, he learned to put vanilla in his French toast, and it has been our secret ingredient ever since! It is a little slice of heaven when everything is sliced, mixed, covered, and cooked all to perfection!
Surprisingly, French toast is not from France. Historians say it is originally from a Roman recipe. It is thought that the Roman recipe soaked the bread in milk and then fried it . In France, they call French toast Pain Perdu. It means lost bread. They take stale bread that is dipped and then cooked. Since it is not known to be French and no one really knows how itgot its name, I think we can all say we are just happy to have a good French toast recipe.
Ingredients in French Toast
A very basic and simple ingredient with one ingredient that stands out and makes this French toast recipe the best… Vanilla is the key that will make your French toast stand out and have that extra added flavor you will instantly love. Check out the recipe card at the bottom of the post for exact measurements.
Eggs: The eggs coat the bread and give it a crisp crust when cooked.
Milk: This ingredient makes a creamy coating over the bread when mixed with eggs.
Cinnamon: This is a must and adds in so much flavor to the toast.
Vanilla: This secret ingredient will take this French toast recipe to the top!
Butter: The butter greases up the griddle or pan cooking while cooking. I use unsalted butter.
Bread: I like to use thick bread like Texas toast or sliced French bread.
Fresh berries: Blueberries, strawberries, blackberries, or raspberries are my favorite combination.
Powdered sugar: I like to sprinkle a little sweetness over top.
Syrup: Syrup softens the bread and adds the perfect touch.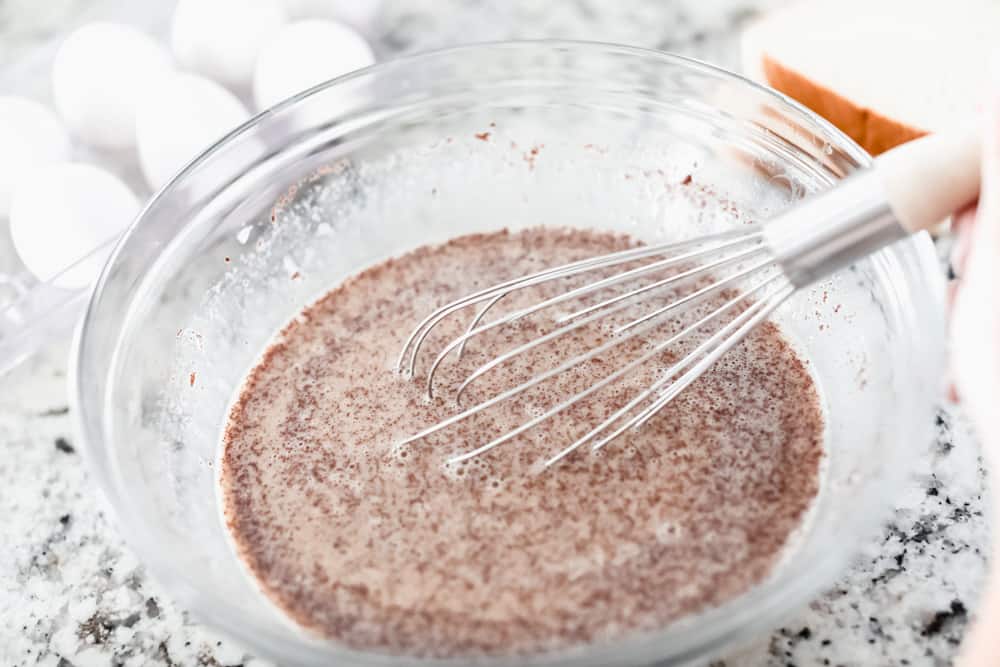 How to Make French Toast
Don't let these simple ingredients fool you though! You are making one of the best French toast recipes and it is packed with delicious flavor.
Whisk together ingredients: In a medium size bowl, add eggs and milk and whisk together until smooth. Add in the cinnamon and vanilla and whisk.
Prepare skillet or griddle: Preheat the griddle to medium and add the butter.
Cook: Once the butter has melted and the griddle is hot, add the dipped bread and fry until golden brown. Repeat on the other side.
Top and serve warm: Top with your favorite toppings, fresh berries, powdered sugar, and syrup and enjoy!
What is the Best Bread for French Toast?
A variety of bread will work well with this French toast recipe. You can use a simple bread that you have in the pantry or find a thick, rich bread and slice it. I prefer a thick, dense bread that is sliced thick and can be soaked a few seconds longer, and has a thicker crust.
Sandwich bread: This is thin and will do if you are in a hurry. Usually, this is my last option.

Texas toast: We use this often and it works great as a thicker bread over sandwich bread.
Brioche: This soft and thick bread will hold its shape and won't get soggy when dipped in the egg mixture.
French bread:  the best French bread is day-old bread. This is usually our choice when making this recipe.
Pullman loaf: This is perfect for cutting into long strips. This is fun for kids to dip and make it a great on-the- go breakfast.
Challah: Known as Jewish bread, this has a buttery flavor and looks like a long braid. This bread is thick and will not get soggy.
Baguette: This bread has a thick and hard crust that can soak up a lot of the mixture and cook very nicely. Slice it as thick as you would like, and enjoy!
Sourdough Bread: Yes, it does have a tart taste, but it is so good when dipped in the egg mixture and cooked.
Cinnamon Raisin Bread: This is my kid's favorite! It has a fun twist to and tastes delicious!
Toppings for French Toast
There are so many options to making this a delightful breakfast. Simple to extreme toppings can be added or just left off for a basic, delicious French toast with berries.
Syrup: I like using maple, coconut syrup, buttermilk, huckleberry, or apricot syrup.
Sauces: Nutella, caramel sauce, peanut butter or cookie butter are favorites at our house.
Fruit: If you don't want to use berries, then try some peaches, bananas, or orange zest.
Nuts: These add a nice crunch—especially chopped pecans, walnuts, or pistachios.
Jam: I love spreading some jam! Try using peach, apricot, strawberry or huckleberry jam.
Chocolate: You can never go wrong with chocolate! Try adding some chocolate chips, mint chocolate chips or dark chocolate chips.
Extras: Butter, whipped cream, sprinkles, powdered sugar, or shredded coconut add in a delightful taste to the French toast.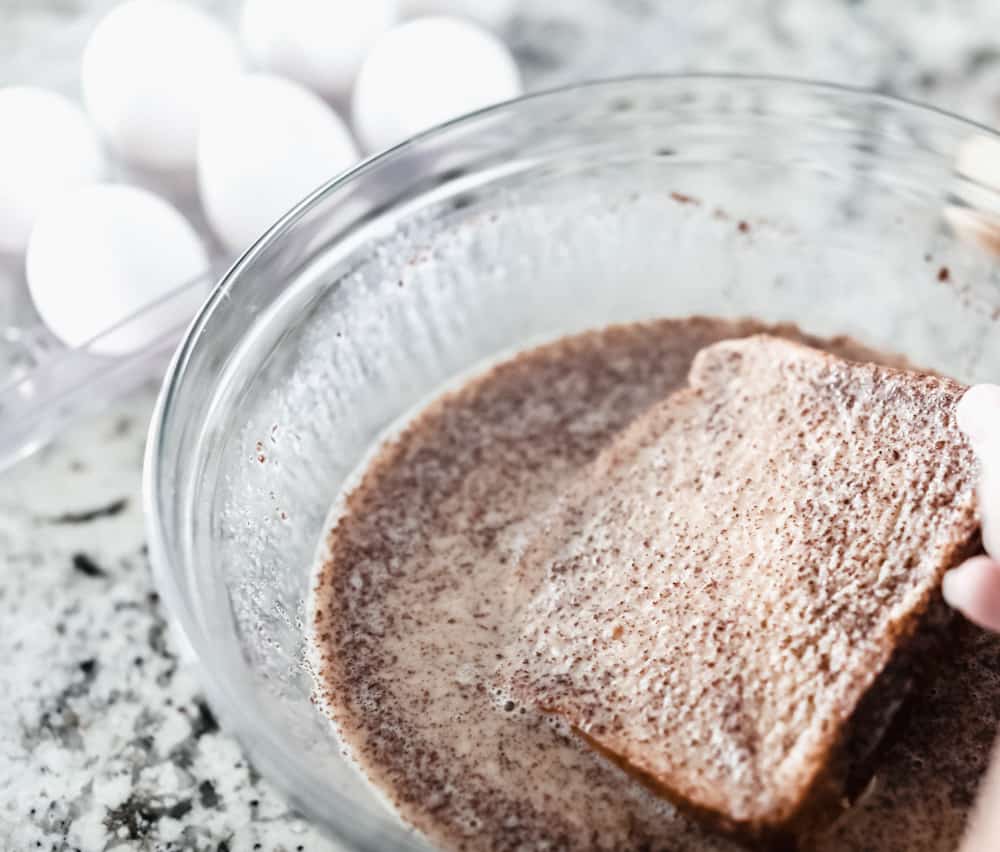 Tips and Substitutions
This simple French toast recipe is very easy to make and will be a favorite in your home. Here are some tips and substitutions so that your French bread turns out perfect every time.
Cook Time: Keep in mind that when cooking, the time may vary depending on the thickness of the bread.
Milk or Cream: I like to use whole milk, but half and half or heavy cream can be substituted.
Soak: Let the bread lay in the egg mixture and soak in the bread. Flip and do the same on both sides.
Make them French Toast Sticks: If you want strips of French toast sticks, I like to cook the bread first and then cut them into strips.
Prevent Sticking: Continue to butter your skillet or griddle as you are cooking. This will help prevent them from sticking and burning to the pan.
Cook it Through: If your French toast is undercooked in the middle, but the edges are cooking faster, the griddle or skillet temperature may be too high. Turn down your heat to medium/low to see a difference.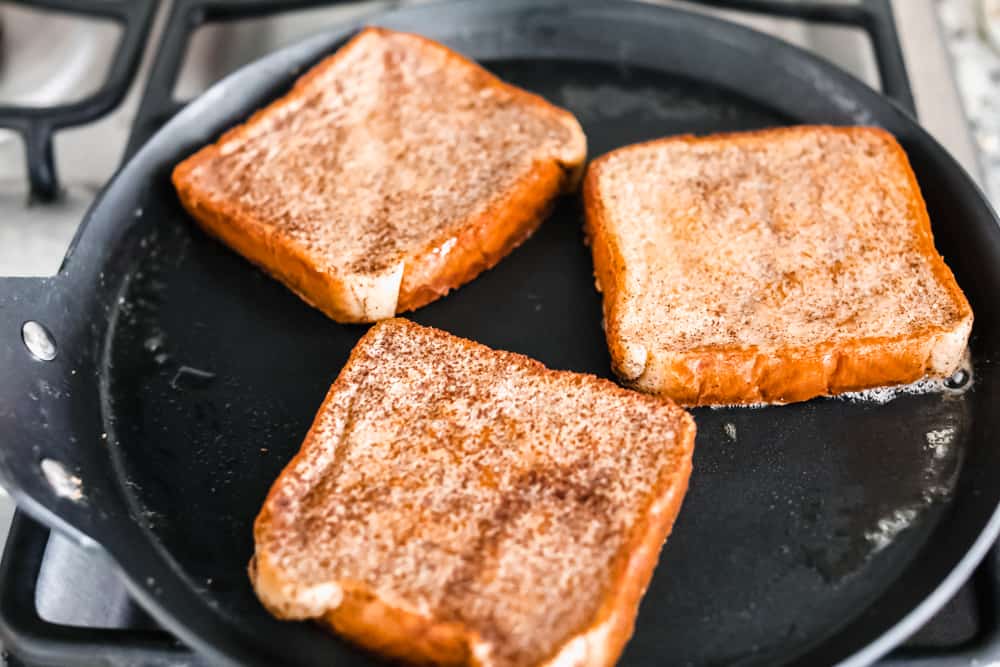 Storing Leftovers
We love a good, fresh French toast early in the morning for breakfast! This specialty breakfast is usually made on the weekend, but breakfast for dinner is just as great.
In the Refrigerator: Store your leftovers (or make this ahead of time) and place your cooked French toast in a ziplock bag or airtight container. These will last in the refrigerator for about 5 to 7 days.
In the Freezer: Cook your French toast, then let it cool completely. Place it in a freezer bag, label it with the date, and it will freeze for up to 1 month. When ready to warm up you do not need to thaw. Just simply cook in the microwave for 30 to 45 seconds or reheat on the griddle or skillet.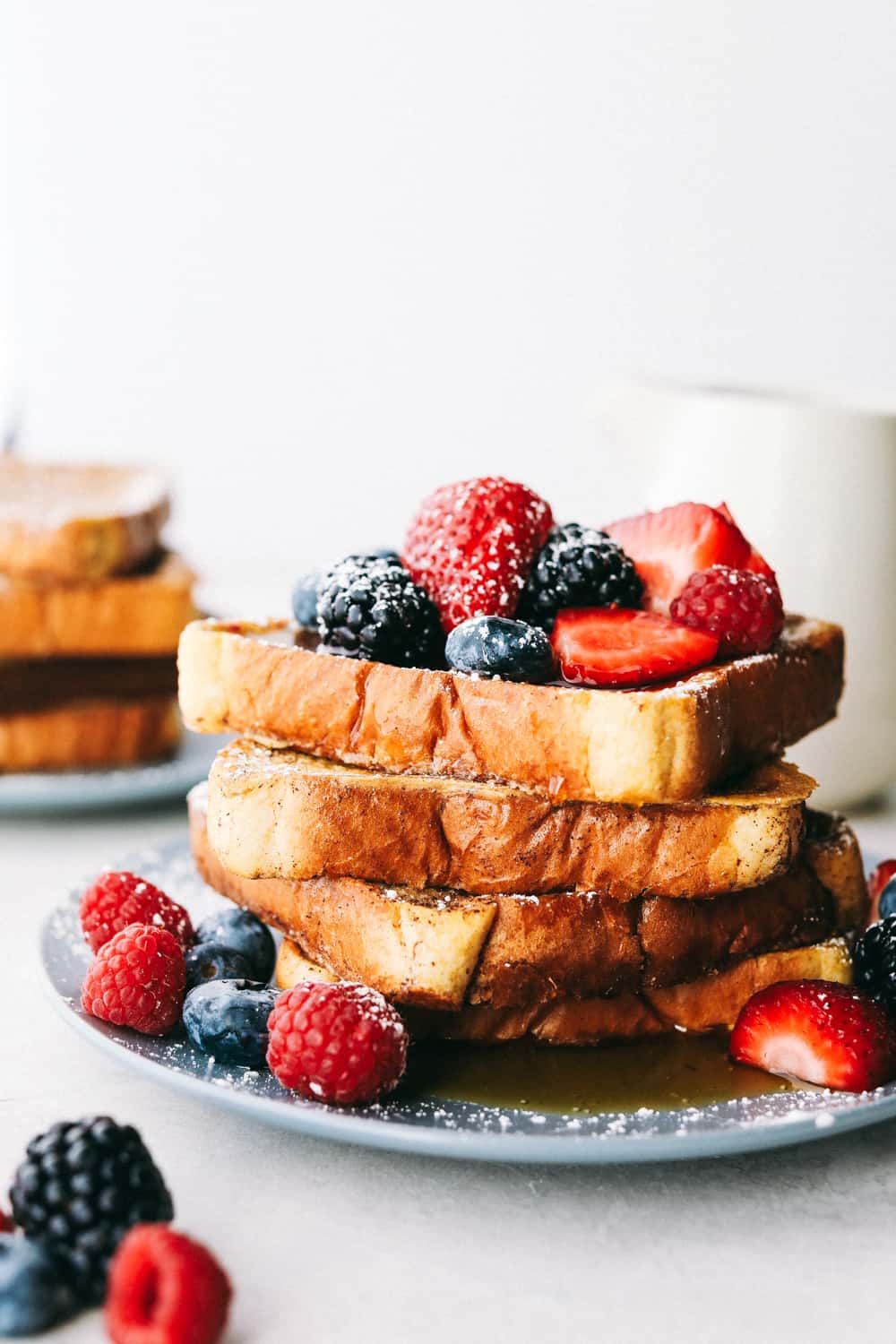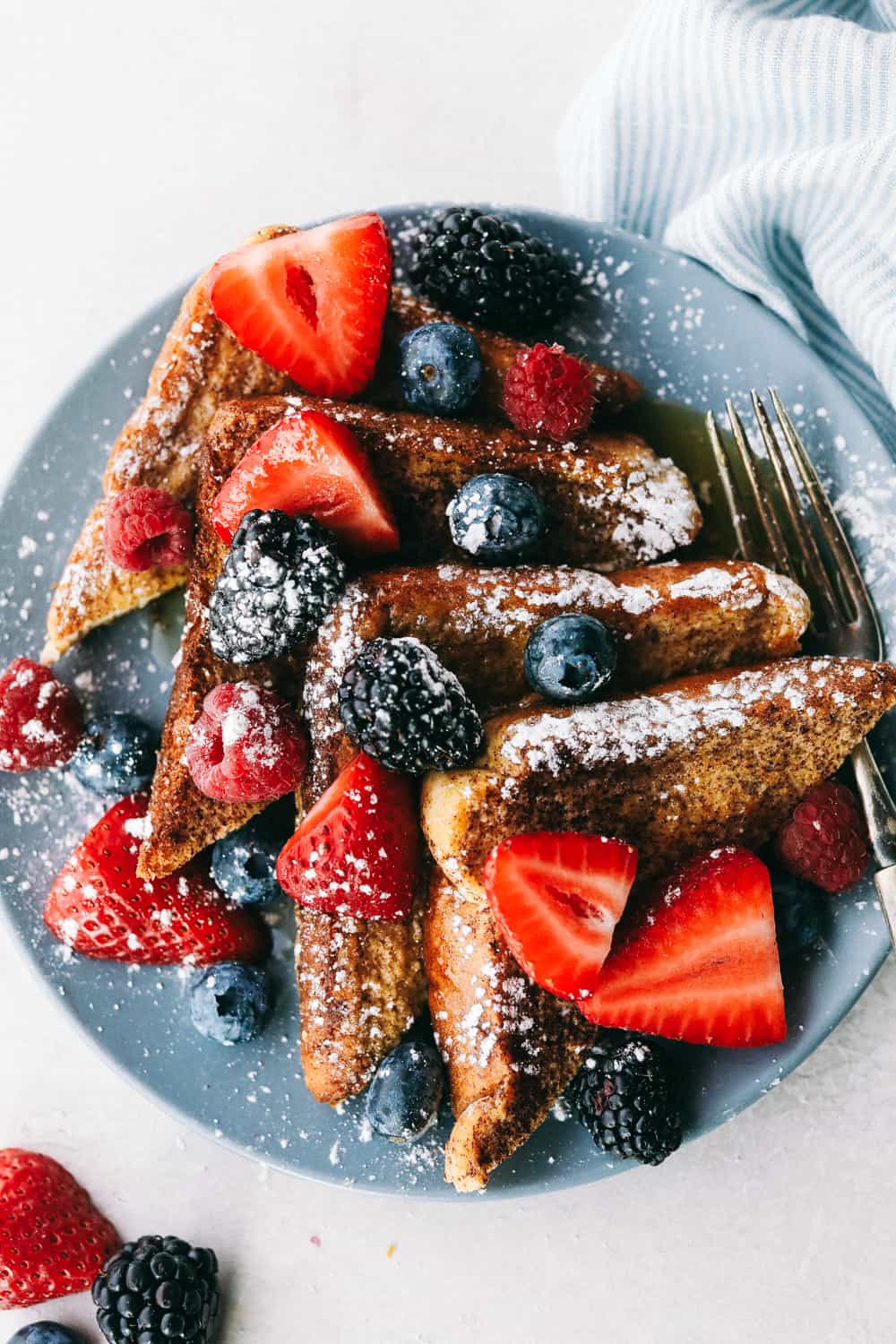 ---
In a medium size bowl add eggs and milk and whisk together until smooth. Add in the cinnamon and vanilla and whisk.

Preheat the skillet to medium and add the butter. Once the butter has melted and pan is hot, add the French toast and fry until golden brown. Repeat on the other side.

Top with your favorite toppings, fresh berries, powdered sugar, and syrup and enjoy!
---
Originally Posted on November 7, 2019
Updated on July 5, 2023
---
Serves: 4
Calories302kcal (15%)Carbohydrates30g (10%)Protein13g (26%)Fat14g (22%)Saturated Fat6g (30%)Polyunsaturated Fat2gMonounsaturated Fat4gTrans Fat0.3gCholesterol184mg (61%)Sodium388mg (16%)Potassium210mg (6%)Fiber3g (12%)Sugar6g (7%)Vitamin A482IU (10%)Vitamin C0.1mgCalcium154mg (15%)Iron3mg (17%)
All nutritional information is based on third party calculations and is only an estimate. Each recipe and nutritional value will vary depending on the brands you use, measuring methods and portion sizes per household.